A Quick Guide to Wake surfing for Beginners - Part II
Experience with skiing or wakeboarding is obviously advantageous, but getting up on a wakesurfing board is relatively simple. To begin, place your heels on top of the board, your back foot over the tail, and your front foot in the middle. They're about 18 inches apart in the end. Point the board's forward end towards the side of the boat you'll be surfing on.
Use Proper Gear and Outfit
The first step is deciding what to wear. A swimsuit is obvious, but there are a few things to keep in mind. While you may want to flaunt your summer body, opting for more coverage will help to keep you safe. Keep in mind that you will be wearing a life jacket, so choose a swimsuit that is supportive and comfortable under it. Wakesurfers who are new to the sport should consider wearing a wetsuit or rashguard. You'll probably spend more time in the water as a beginner, which can get chilly depending on where you are. More coverage also safeguards you against any potential falls.
The biggest questions while wakesurfing we discussed earlier in the previous blog are answered below:
How to Drop the Rope?
It's time to get into that wave and drop the rope once you've gotten up! When you get into the wave's pocket, the wave's push is enough to keep you riding, and you don't need the handle to keep you moving. When you're trying to catch that wave and drop the rope, there are a few things to keep in mind.
It's time to toss the rope once you're comfortable surfing with a consistently slack line. To avoid becoming entangled in the rope, either throw it back into the boat or across to the other side of the wave.
How to Control the Speed While Wakesurfing?
When wakesurfing, changing the way you weight your feet can help you control your speed. In other words, your front foot acts as a gas pedal. Pressure your front foot to accelerate, and shift more weight to your back foot to slow down. Weighting your toes will also help you speed up by pressing you into the wave, whereas pressing your heels will do the opposite. Turn up into the wave to keep your speed and stay in the wave, then drop back down to pick up speed.
If you're having trouble staying in the wave and getting dumped out the back, consider popping back up into it after you've dropped down. Similarly, if you feel like you're losing the wave, you should turn it up rather than down so you can drop back down and pick up speed. You'll be surfing like a pro once you master these movements.
There are more water sports options in Dubai than you could possibly imagine. Including:
Jet Skiing | Wakesurfing | Parasailing | Banana Boat Ride | Scuba-Diving  | Bumper Ride | Wakeboarding | Kayaking | Speed Boat Ride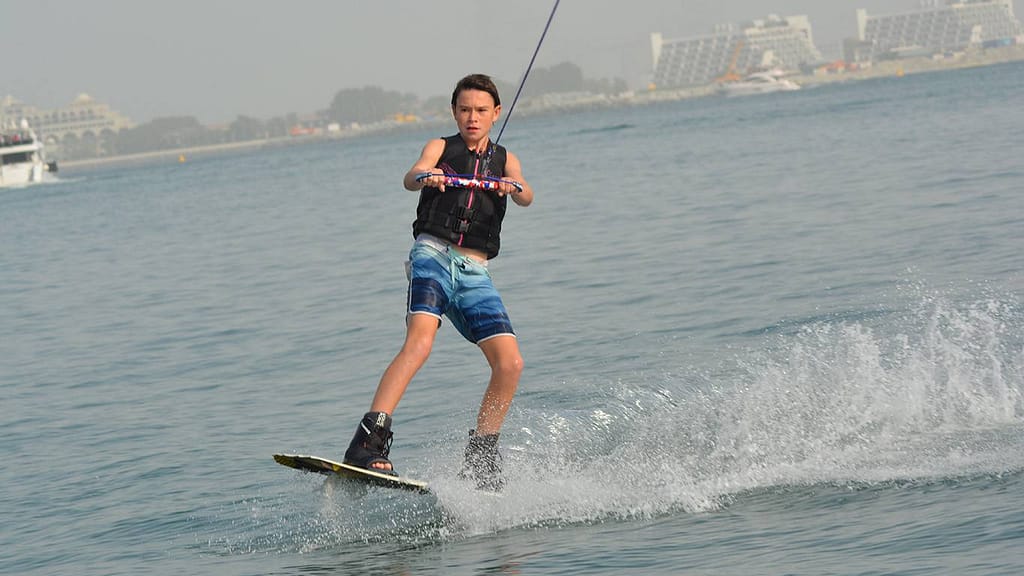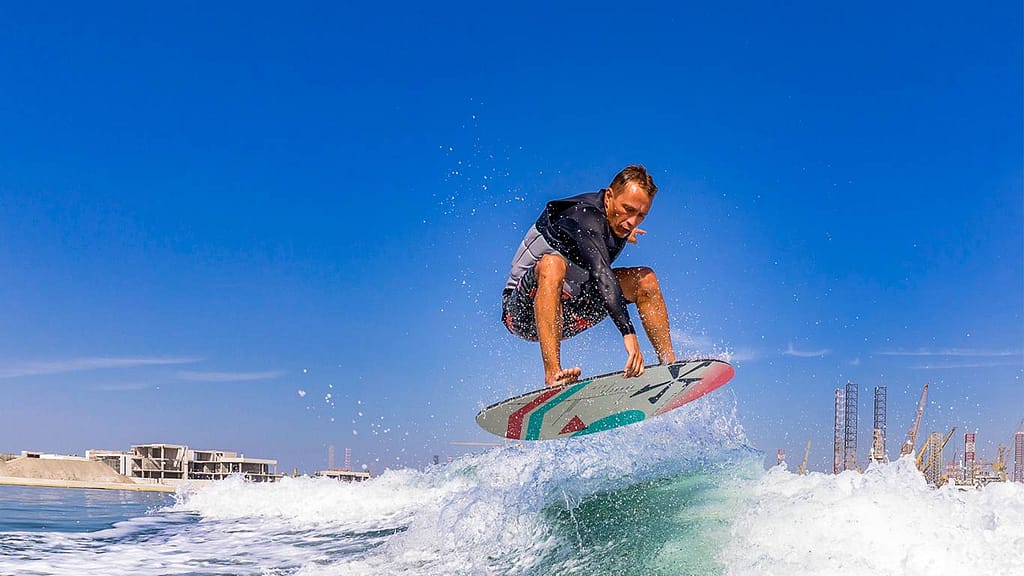 Practice Makes the Man Perfect
The best part about wake surfing is that it is enjoyable to learn and that taking a spill is far less painful than in any other water sport. Ride with people who are more experienced than you. Wake surfing allows you to ride so close to the boat that you can hear them give you pointers while riding and put them to use right away. And there's no need to rush. That wave is yours to ride for as long as you want.