A Quick Guide to Wake surfing for Beginners - Part I
Seariders Watersports in Dubai, which may appear difficult to get up and locked into the wave for the first time, but with a few pointers, you'll be shredding the endless wave in no time. Learning to wakesurf is inextricably linked to learning to wake responsibly. Wake responsibly means not only having a good time on the water, but doing so in a way that is considerate of other boaters and local residents. It's critical to be prepared before getting out on the water.
Use Proper Gear and Outfit
The first step is deciding what to wear. A swimsuit is obvious, but there are a few things to keep in mind. While you may want to flaunt your summer body, opting for more coverage will help to keep you safe. Keep in mind that you will be wearing a life jacket, so choose a swimsuit that is supportive and comfortable under it. Wakesurfers who are new to the sport should consider wearing a wetsuit or rashguard. You'll probably spend more time in the water as a beginner, which can get chilly depending on where you are. More coverage also safeguards you against any potential falls.
Choose a Beginner Wakesurfing Board
Choosing the right beginner wakesurf board will help you learn faster while also allowing you to have more fun. Beginner wakesurfers prioritize consistency and predictability over speed and pop. Surf shape wakesurf boards with a larger surface area and a stable three fin setup are recommended. This will provide the most stable and forgiving platform on which to learn the fundamentals.
The Most Difficult Part - How to Get Up Wakesurfing?
New wakesurfers are frequently advised to relax and let the boat do the work. If you're having trouble getting up, this may be frustrating advice, but it's true. Here's a step by step breakdown to help you get up.
Sit in the water with your toes pointing up and your heels on the board's edge.
Allow your knees to come into your chest as the board moves, and dig your heels in.
Continue to bend your knees until the board flips up to your feet and your weight is supported by the board.
Gently stand up and place your heels on the board.
There are more water sports options in Dubai than you could possibly imagine. Including:
Jet Skiing | Wakesurfing | Parasailing | Banana Boat Ride | Scuba-Diving  | Bumper Ride | Wakeboarding | Kayaking | Speed Boat Ride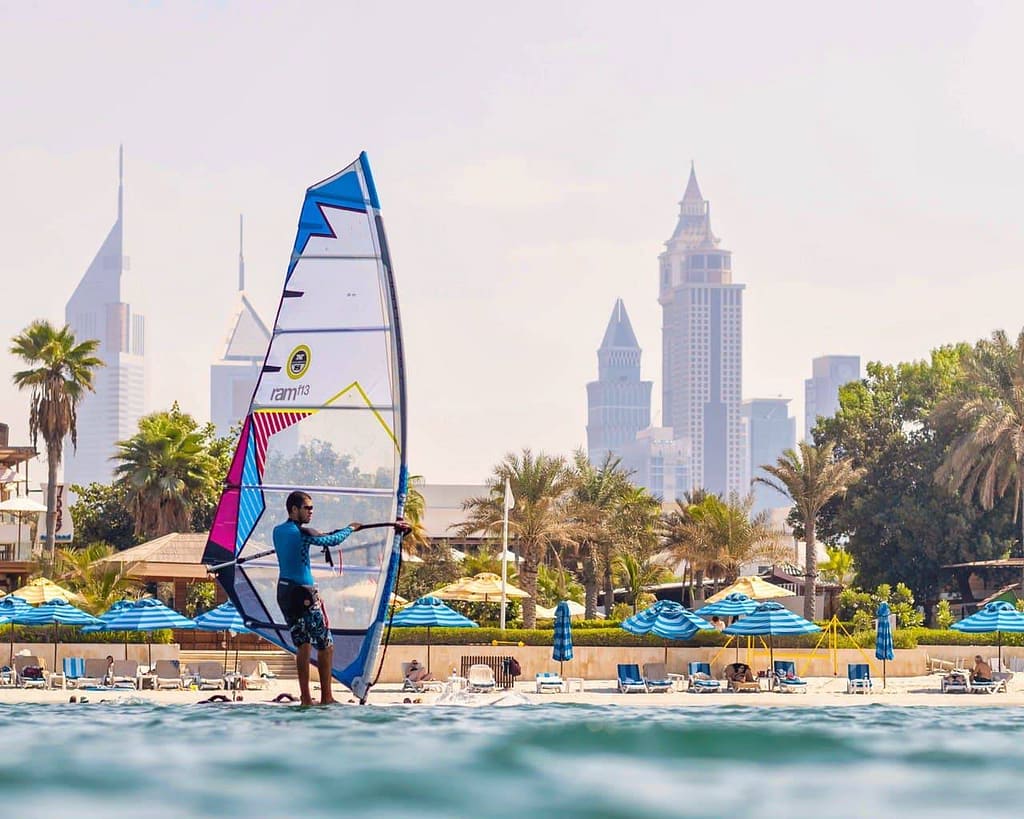 To know how to drop the rope, control your speed while wakesurfing, and technique to stay in the wave, read A Quick Guide to Wakesurfing – Part II.
Common Mistakes Beginners Make While Wakesurfing
Beginner wakesurfers frequently make the mistake of trying too hard to push their feet into the board rather than letting the boat's pull naturally flip it up. Another common blunder is attempting to pull yourself up. This may work in some cases, but as you gain strength, it's easy to lose your balance and fall.
Summer is a lovely season, with long days, warm evenings, and fragrant air. It does, however, bring with it much more heat and sweaty days. That's why participating in water sports or activities is a great way to cool down, refresh, and have a good time in the process. Continue reading if you're looking for the best water sports and activities for summer inspiration. Whether you're looking for a high-octane activity like kitesurfing or flyboarding, or something more relaxing like yachting or snorkelling, there's something for everyone.