Top Watersports Activities in Dubai
Dubai's watersports add to the city's vibrancy and draw adventure seekers from all over the world. Its beaches, climate, and world-class amenities make it the ideal location for enjoying the ocean both above and below the surface. Dubai has it all: scuba diving, kayaking, wakesurfing, parasailing, wakeboarding, and even sea walking.
The city is considered a haven for watersports activities due to its unsurpassed physical beauty and pristine turquoise waters surrounding every corner. lies your number one destination for flyboarding, kayaking, jet skiing and other various water sport activities. If you are looking for an adrenaline rush in the Persian Gulf, look no further.
With so many options to choose from when it comes to water sports and aquatic adventures in Dubai, you can be sure to make some waves on your next holiday. You'll find it all with Seariders, whether you're looking for a little relaxation on the water, heart-pounding excitement, or a little bit of both.
There are more water sports options in Dubai than you could possibly imagine. Including:
Jet Skiing | Wakesurfing | Parasailing | Banana Boat Ride | Scuba-Diving  | Bumper Ride | Wakeboarding | Kayaking | Speed Boat Ride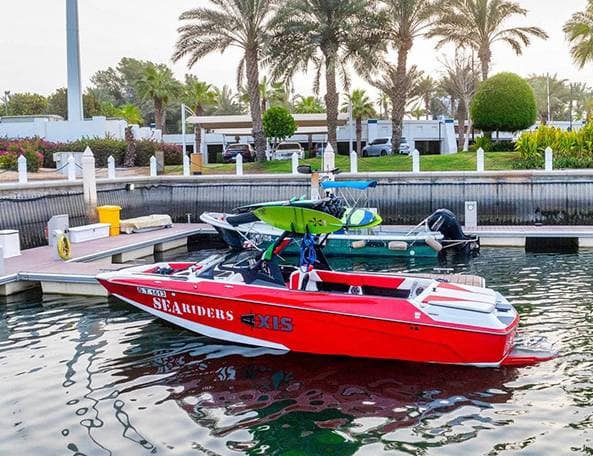 All you daredevils, and even those who secretly aspire to be one, Seariders is the place to be for a double dose of adrenaline and a chance to conquer your fears! There's nothing like going bananas trying out the thrilling water sports in Dubai!! You don't even need to know how to swim if you find the waters enticing but can't get a toe in because you can't swim! Even if you're not a water baby, all of the water sports listed below will turn you into one. There is something for every level of expert, from parasailing to wakeboarding!
New to Watersports? We'll Make You a Pro!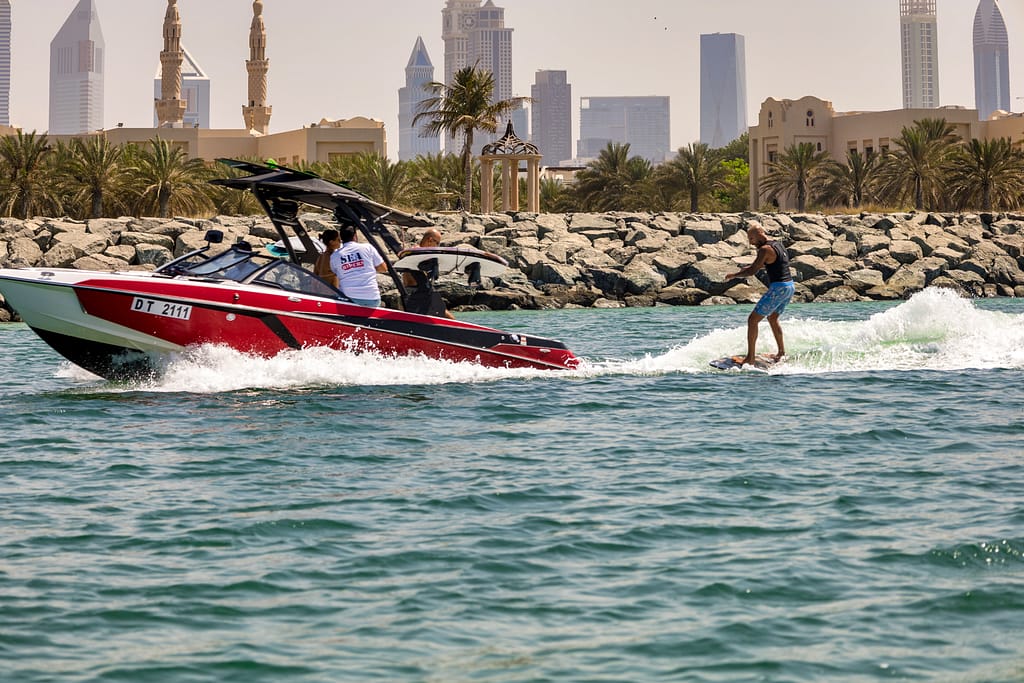 If you haven't been exposed to water sports earlier, they can be intimidating. Diving, wakesurfing, waterboarding, rafting, and water skiing are all activities that sound like a lot of fun but require a lot of skill. So, if you didn't grow up near a lake or the ocean, how do you get into these sports? At Seariders, you can learn the skills. Whatever your passion, Dubai is the place to learn it while also enjoying it in some of the world's most beautiful and abundant waters.
Summer is a lovely season, with long days, warm evenings, and fragrant air. It does, however, bring with it much more heat and sweaty days. That's why participating in water sports or activities is a great way to cool down, refresh, and have a good time in the process. Continue reading if you're looking for the best water sports and activities for summer inspiration. Whether you're looking for a high-octane activity like kitesurfing or flyboarding, or something more relaxing like yachting or snorkelling, there's something for everyone.